Aquamarine
Immersive destinations built from insight
Welcome to Aquamarine Projects. We are an international consultancy specialising in large entertainment and lifestyle projects.

Our vision is to enrich lives and places by designing and developing immersive destinations that celebrate nature, inspire visitors and thrive commercially.

We provide end-to-end solutions: from concept and planning, to design and construction, to operational management and anything in between.
Icon plus

View our work
Evolution Through Insight
At AQM we exist to create inspirational, immersive destinations that enrich the communities and people they are built for.
Global perspective
Aquamarine has core teams located in New Zealand, Russia and
South Africa. Our global network of partners enable a multicultural perspective, meaning we have the ability to build our team around projects, which we have completed across the world.
Investment Opportunities
Applications of interest are open for several existing projects, and for new ideas.
Contact us
Entertain the possibilities
In Aquamarine's home base of New Zealand, we are the first country to see the new dawn each day, and this special spot in the world helps to shape our unique viewpoint. We're lucky to have many incredible natural environments on our doorstep and the natural world is hugely important to us. Perhaps this is what drives us to create projects that help others across the globe share in nature's wonders too.

We don't shy away from a challenge. We work with clients and communities in unique regions all over the world to help them build legacies and landmarks. Are you ready to start building yours?

Nicholas Traviss

Aquamarine, Owner /Director
Aquamarine
Two Generations of Innovation, 47 years in business, 1100+ projects.
Bob Traviss started R.K. Traviss Design in 1972, in the Bay of Islands, New Zealand. Since our inception, Aquamarine has evolved into an international design and project consultancy.
From our early focus on architecture, to our specialization in aquariums, to our current focus on multi-feature bespoke developments and integrated biomes – we have always been passionate about enhancing human experience within built environments.
Throughout our evolution, we have stayed true to our roots – holding onto a respect for our natural environment, a commitment to outstanding delivery in true partnership with our clients, and a sensitivity to how our work can impact and improve lives.
1972-Present
1972

Bobby Traviss founds R.K. Traviss Design in Bay of Islands New Zealand

1972–2002

30 years marks 977 individual projects completed in New Zealand's Northland Region

2002

Our second era begins, as Nicholas joins his father in the business, and R.K. Traviss Design becomes Traviss Design

2002–2012

Traviss Design builds an international reputation as an expert consultancy in aquarium design, partnering with other leading Aquarium industry experts on over 150 projects over this time

2006

Bobby passes, and leaves his legacy to Nicholas, as the business continues to grow and diversify

2012

Traviss Design expands into Aquamarine Projects – extending beyond aquariums into diverse entertainment and experience precinct projects

2012–2019

Aquamarine Projects embarks on a number of diverse nature-based entertainment projects including nature parks, water parks, botanic gardens and discovery centres.

2010–Present

Aquamarine pioneers the new commercial Eco-Aquarium and champions Biome development as the sustainable future of entertainment design.
Contact
At AQM we exist to create inspirational, immersive destinations that enrich the communities and people they are built for.
Featured Article
Biomes, the future of entertainment and sustainable building
Aquamarine's 'Biome' concept offers a new take on entertainment destination design that enhances guest experiences and offers a more sustainable future for the industry.
Biome features include:
Natural habitats

Botanic gardens, aquariums, unique regional ecosystems, and rainforests are cornerstones of every Biome.

Active experiences

Adventure parks, playgrounds, tree walks, rock-climbing etc.

Social & wellbeing facilities

Restaurants, bars, rest areas, shops and spas.

Culture & education

Integral to the biome experience local culture and history are curated into informative displays and installation design.
Taking inspiration from the biomes of the natural world, Aquamarine Biomes are social destinations designed as cohesive habitats. Each is a unique entertainment precinct that heroes the natural world while operating as a sustainable business. Read on to learn more about how Biomes are a response to the growing call for change and how this is fundamentally shaping what we do and our vision.
Read more
Seek Insight
Read more about the people, concepts and clients involved in our work, including our Biome concept, in our inaugural magazine Insight.
This issue, entitled 'Our Connected World', introduces our approach and explores some recent projects and core topics that are driving our trajectory as a business, such as multi-locational collaboration, the environment and sustainability.
Download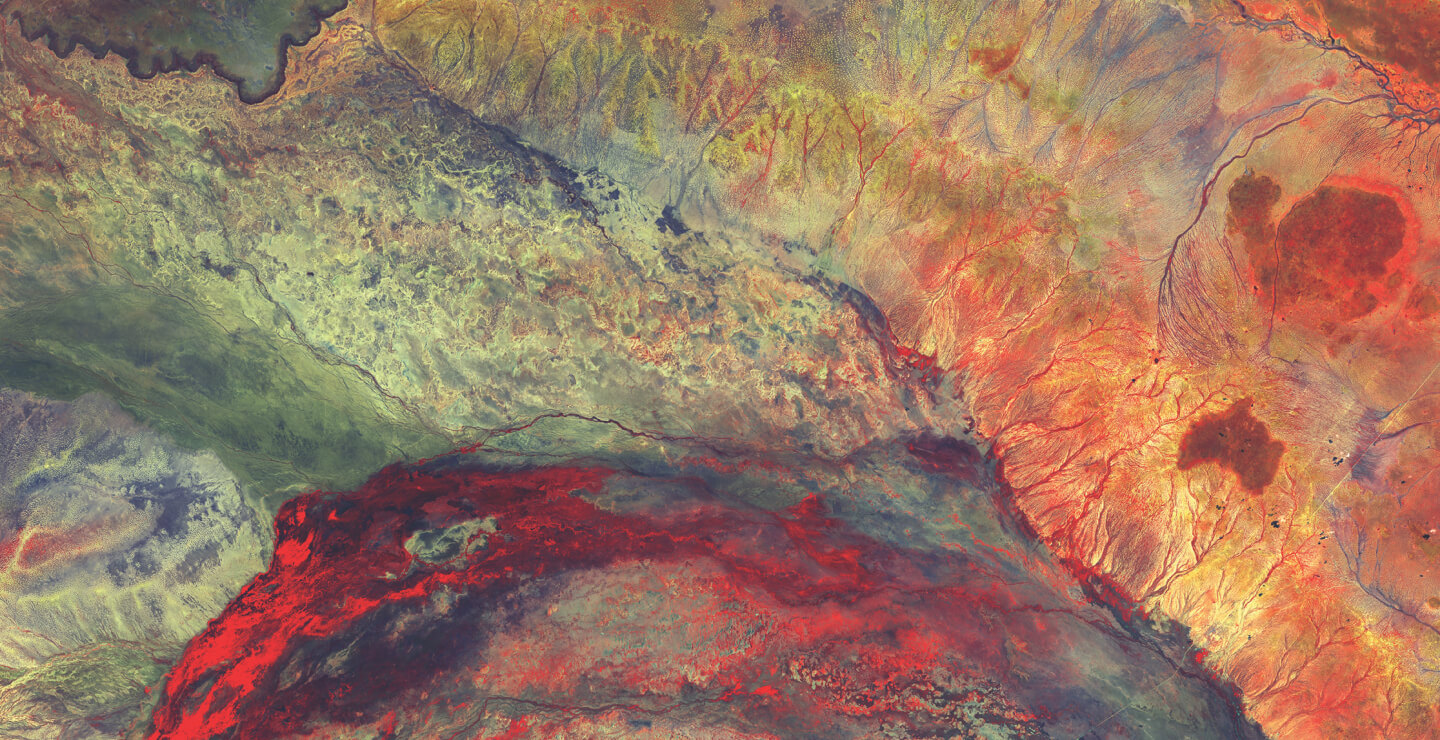 Learn even a little about some of Earth's incredible natural environments and you'll see why we've made sharing this knowledge our life's work. Forests, Wetlands and Oceans are all biomes of the natural world. Unique and incredibly diverse, all three have vital functions that support the equilibrium of our environment.
Forests
Sometimes called the lungs of the Earth, forests like the Amazon rainforest of South America, and the Boreal Forest or the Taiga in Russia are some of our most precious earthly treasures and a major player in carbon sequestration.
Rainforests are Earth's oldest living ecosystems, with some surviving in their present form for at least 70 million years.

Boreal Forest – also known as snow forest, or in Russia, called the Taiga – grow in high northern latitudes, including in Russia, Mongolia, Japan, Norway, Sweden, and Scotland. It is comprised of mainly coniferous forests, and while less well publicised than rainforest, it is equally important for carbon sequestration.

Russia's boreal forests make up the largest forested region on the planet – even larger than the Amazon (12M km2) and as such a crucial asset in protecting Earth's climate. The biome is 50N latitude. It is the largest 'terrestrial biome' on Earth.
Wetlands
A much underappreciated ecosystem, which, in keeping with describing forests as the Earth's lungs, could be described as the kidneys of the Earth.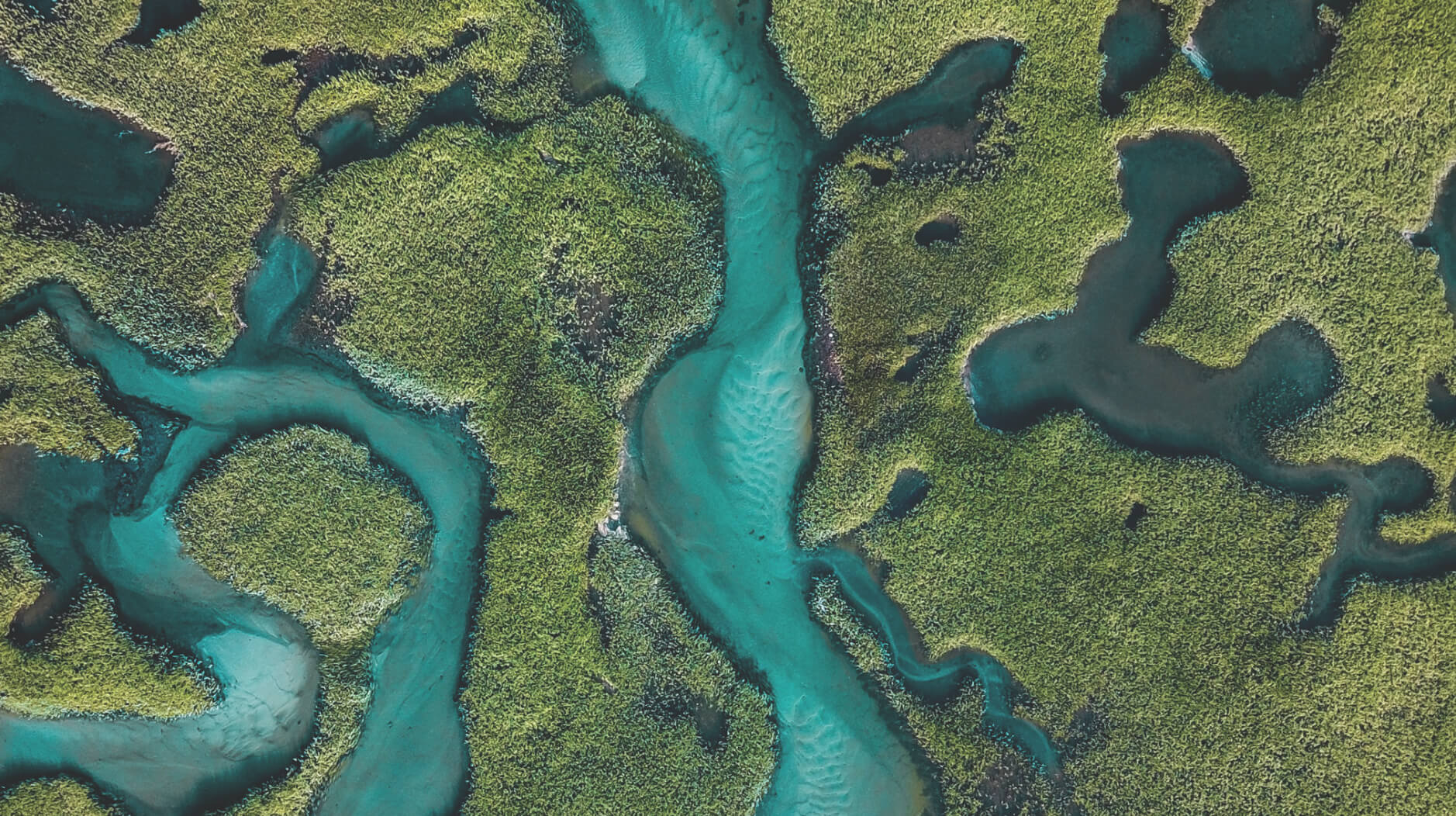 Among other benefits, wetlands play a vital role in cleansing water systems, protect coasts against flooding, and support a huge array of unique flora and fauna, including many endangered birds, insects and more.

In Aquamarine's home country New Zealand, we have now lost more than 90% of our original wetlands.

Without broad public understanding and appreciation of the importance of these ecosystems, their destruction has continued to go on at great pace all over the world.
Oceans
Long the foundation of Aquamarine's business and our passion. Oceans are Earth's biggest carbon sink.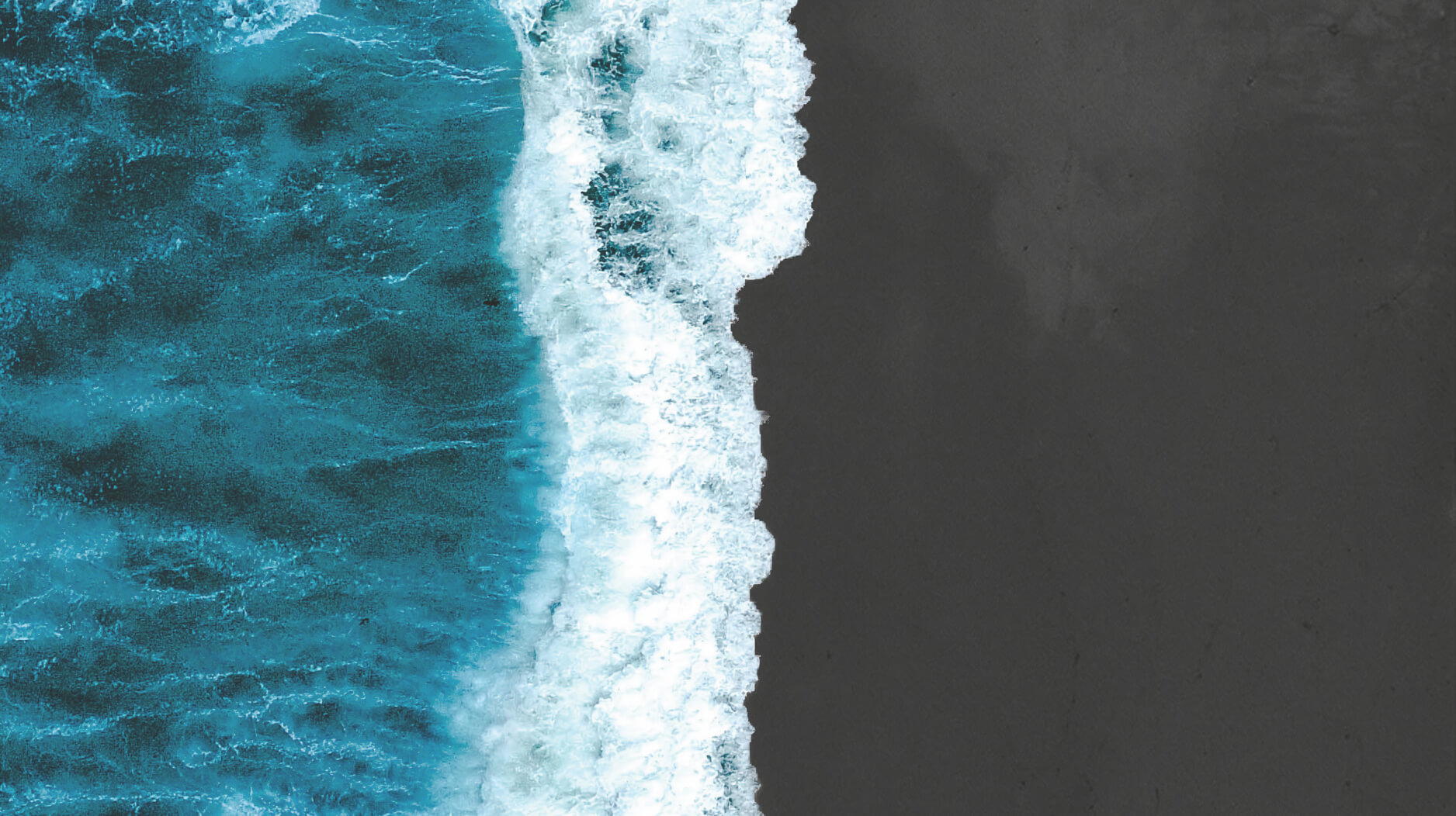 Our oceans' ecosystems are highly vulnerable to a changing climate, with global warming and acidification having a devastating effect already on fragile environments such as coral reefs.

Presently, oceans are CO2 sinks, and represent the largest active carbon sink on Earth, absorbing more than a quarter of the carbon dioxide that humans put into the air.




Aquamarine – a design ecosystem
Our forte is creating sustainable developments that are unique to location and context.
Designed to let us work anywhere and achieve anything, our flexible approach is focused on delivering solutions and outcomes, not pigeon-holing our offering or services.
Whatever is needed, we can provide the specialists to make it happen.
Icon point arrow right

Discuss your project with us
What we do:
We offer turnkey specialist consulting services from concept, to development, to construction, to operation.
Seek insight, shape the world.
Architecture / architectural design
Concept design & development
Construction - specialist & building
Creative direction
Exhibit design
Feasibility assessment
General management consulting
Interior design
Operational design & strategy
Spatial design
Technical design
Visual communications design
What we build:
We create (and help operate) special spaces for people to live, work and play while thoughtfully incorporating the natural world.
Bespoke solutions for unique locations
Adventure parks and playgrounds
Amusement parks
Apartments & living spaces
(high rise and low rise)
Aquariums & oceanariums
Biomes
Botanic gardens
Destination projects
Entertainment centres & malls
Landscaped parks
Leisure centres
Luxury residences
Resorts & hotels
Retail malls
Tourism attractions
Water parks
Why we do it:
Our mission at Aquamarine is to bring a love and wonder for our diverse natural environment to people across the globe, through immersive experiences that educate, and enhance lives. Our projects deliver many benefits such as:
Creating spaces that enrich lives and places
Connecting people and communities
Increasing visitor wellbeing
Fostering local growth through employment and tourism
Supporting the environment
Education and conservation initiatives
Better lives through entertainment and lifestyle enjoyment
Our Philosophy
Our approach is informed by many years of experience and learnings made along the way. We adhere to strong principles and practices to ensure sustainable results and better outcomes for all involved.
Stay curious

Every project and the people it serves is unique. We undertake significant research to understand full context, and the quality of our work is built on a deep understanding of how people live, how they like to be entertained, and how to deliver to this within a sustainable business model. Through personal observation, we immerse ourselves in each place we are designing for, and conduct detailed research into social, environmental, commercial and political factors. Custom solutions are built from here. Talk to us about your next intriguing challenge.

Honour nature

We are deeply passionate about the natural world. Sustainable practice and innovation is central to our approach and we believe it is vital for any business that hopes to succeed in the future. As part of this, environmental education is central in our entertainment developments, as is the wellbeing of any living species housed within them. Contact us to learn more about our sustainability and environmental practices and principles.

Create connection

Our multi-disciplinary network of specialists spans the globe. Because we work all over the world, understanding and adapting to cultural and geographical diversity is central to our approach on every project, and we love the challenge. Collaborative practice and partnership with local communities, governments and investors is a core priority, with a focus on designing to create opportunities that improve people's lives, via employment, education and entertainment. In every project, our aim is to create a unique asset that generates pride and ownership within the local community.
↳ Insight
Gain a glimpse into the people, projects and passions behind Aquamarine's work, in our self-published periodical Insight. Each issue highlights a central theme and offers a perspective on the world we live in, while exploring concepts that influence our work and our thinking.